In this digital world almost everyone is using internet and everything can be done online these days. From watching movies to reading books, and from paying bills to ordering food, nothing left which can't be done online. With the increase in internet users around the world, companies are trying to reach more and more people with the help of advertising. These days online advertising have more potential and reach than offline means of advertising. While it is beneficial for companies and advertisers, but it annoys the users. You might have seen there almost all apps and websites have ads on them. Though it is necessary for them to show it as they earn revenue from it, but sometimes it becomes headache when you are trying to focus on something else.
According to recent reports more than 50% of the internet users are from mobile devices and the numbers will grow in coming years. When we talk about mobile devices the most popular among them are Android. Android is an OS owned by Google which can be found in many of the smartphone devices these days. Due the freedom of customization and flexibility, more people prefer Android over other mobile OS devices. Just because of this many app developers and companies try to build apps for Android first to gain the users around the world. This is helpful for advertisers as well as they get so many users to target for their advertisements. About 51% of world population can access the internet and 100% of them doesn't like ads. Recently, we have also shared step by step tutorial to remove system apps from Android.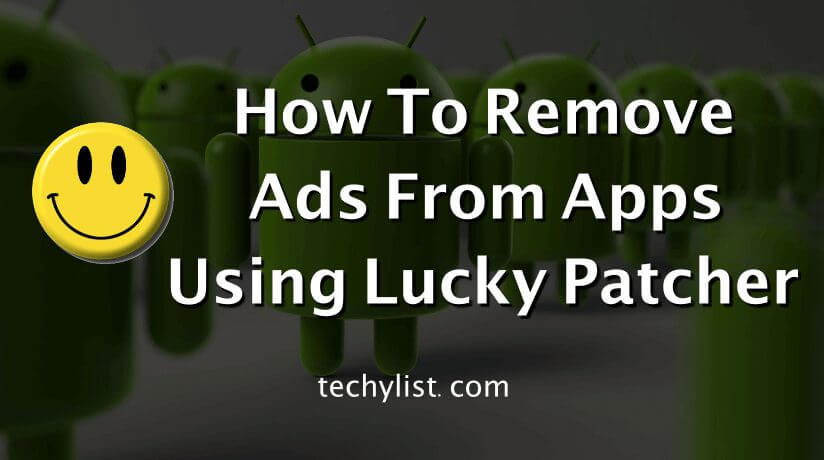 To keep people away from the ads many apps like AdBlock Plus are launched, but they seems to work with limited number of websites and apps. If you want to block ads on your Android devices, then we have found a perfect solution for you. There is an app called Lucky Patcher available over the internet, which can be used to stop ads on Android home screen, lock screen and in apps too. Yes, you heard it right you can use Lucky Patcher app to remove ads from APK, apps and from wherever you want. Here in this post you can find ways to stop pop up ads on Android phone and tutorial on how this app works. So, let's get started.
Tip – You can also edit APK files using MT Manager.
How To Remove Ads From Android Apps Using Lucky Patcher
Lucky Patcher is one of the best app to remove ads no root is required to use it. Though if you want full control then you must root your device so you can also enjoy other features of this app. Before we start telling about how to use Lucky Patcher to stop pop up ads on Android phone you must know about the things it can do for you. Lucky Patcher is not just ad blocking app but it can do a lot more. You can also enjoy paid apps and features for free using this app as it can crack those app. The best thing here is that using Lucky Patcher is completely safe and you don't have to worry about anything while using it. So, let us now tell you how to remove ads from Android games and apps using Lucky Patcher for free.
First of all you will have to download latest Lucky Patcher APK. Click on below download button to download latest APK of the Lucky Patcher app.
This app is not available over Play Store, so you will need to download its APK file and the install it manually.
Once done, just install the app and open it.
Now it will ask you to grant SuperUser permission to it, simply allow it.
A list of all installed apps will be displayed on your screen.
Now select the app from which you want to remove ads.
When you will tap on the app, a drop-down menu will appear with various options.
Simply click on Menu of Patches.
Tap on Create Modified APK File option.
Again a pop-up menu will appear on your screen, and now you will have to tap on APK Without Gооglе Ads.
In the next menu you will find many options, you just have to click on Rebuild The App and wait for the process to finish.
When the process will finish, you will get a confirmation message that "Cоngrаtulаtіоnѕ! Yоu hаvе ѕuссеѕѕfullу rеmоvе аdѕ frоm your арр by this Lucky Patcher App".
Now try opening the app from which you have removed the ads and you will notice that no ads are being displayed in it.
[BONUS] How To Stop Google Ads In Android Lock Screen/Home Screen Without Rooting
Well you should be aware that when you root your device, then it voids the warranty of it. So before rooting your device, you must follow a complete step by step tutorial on how to root Android devices. You should be aware of the things you are doing while rooting, so we won't recommend rooting if you don't know about it. Still if you want to know about how to remove ads from Android apps without rooting then you can use this method. You will not just be able to block ads in mx player without rooting but in other apps and in web browsers too.
First of all you will have to download AdBlock Plus APK. You can find download link below.
This app is not available over Google Play Store, so download the APK file.
Once downloaded, navigate to the folder where you have placed the file and click on it.
Now install the app like every other app and wait for the process to finish.
You will now be able to see AdBlock Plus app icon on your home screen, so tap on it.
In the AdBlock Plus app you will find options to configure.
If your device is rooted then it automatically sets the best settings for your device.
If you have non-rooted Android device, then you will have to configure it manually.
You can visit the official AdBlock Plus page to find configuration settings for your device.
When you are done, AdBlock Plus will start blocking ads on apps, web browsers, home screen and lock screen of your device.
Now you know how to remove ads from mx player without root in Android.
Final Words
Advertisements are something which annoys everyone and if you are the one who is searching for how to stop Google ads in Android then you can follow the methods mentioned above. Moreover you can also use Lucky Patcher app to remove ads from APK 2018. To use Lucky Patcher app you might need to root your device, but if you don't want to do so then you can try the other method mentioned above. By following that you will be able to remove ads from APK without root. To get more tutorials related to the Lucky Patcher app, keep visiting our blog Techylist regularly.
We hope that everything is cleared to your and now you know how to remove Google ads from Android apps. If you are facing any problems with Lucky Patcher app or with the tutorial above, then you can let us know about it via comments below. The best thing here is that you can also use this app to remove ads from Android lock screen. Moreover if you know about any other apps or method on how to remove ads from Android apps then let us know about it too.