I love Anime, but instead of watching them, I like to live life and play games. There are a ton of great games based on anime characters. The best ones are the anime shooter games, which involve a lot of action and shooting elements. Amongst all of the available games, the Nikke: Goddess of Victory APK caught my attention. We tried this game, and it was one of the finest sci-fi RPG shooter games that revolve around cute maidens. In this game, you have to fight against enemies while stepping into the shoes of cute anime-style maidens.
The maidens or the Nikkes have a lot of unique powers which will help you to fight effectively against enemies in different locations. As this is a sci-fi RPG, you will be able to enjoy the overall gameplay with full intensity and action. If you are interested in entering into this Cute yet fierce world of NIKKE: Goddess of Victory, then you are at the right place. In this post, we are going to share detailed information about this fantastic game.
Features of NIKKE: Goddess of Victory APK for Android
#1 – Excellent Storyline
As it's a Role-Playing game, it has to have a solid storyline, and this game doesn't disappoint at all. The NIKKE Goddess of Victory comes with a solid sci-fi storyline like Ninja Heroes. In this game, the world is attacked by the Raptures, and every modern technology has failed. Now there is no time for negotiations with the Raptures army, but to defeat them and reclaim the world to establish humanity. It's a simple yet powerful storyline, which contains a lot of characters, locations, twists, and turns that you would definitely like.
#2 – Multiple Characters
The world is full of Nikkes or maids. But there are hundreds of them, and each one has a unique look and superpower that will help you go mad. With the multiple characters, it becomes easier than ever to have a fresh gameplay experience each time you switch the characters. As the game has a solid storyline, you will be able to find multiple characters and also interact with them as per the storyline.
#3 – Weapons
Just like the characters, this game has a ton of unique weapons. What's the point of playing an RPG shooter without weapons? Well, the game has a ton of weapons ranging from Melee weapons, Pistols, Guns, Rifles, Snipers, and many others. You just have to choose the best ones that suit the best during combat and keep switching them for the better ones. You can even apply a few unique skins to these weapons to make them look cool.
#4 – Killer Soundtrack
People often don't talk about the sound quality of the games, but it determines the overall intensity of the gameplay. As Goddess of Victory has action-intensive Role Playing gameplay, it needs to have a strong soundtrack, and the developers have not disappointed us. With the killer soundtrack, you will get the ultimate gameplay experience. Just wear the headphones while playing the game, and you will have the ultimate gaming experience.
#5 – Multiple Game Modes
The best thing about this game is that you won't get to play the same game for a long time. You can switch from the game modes to have fun and not get bored by the same thing. There are multiple game modes. The story mode is the classic one, in which you will be assigned some missions, and you have to complete them. After that, there is the practice mode, which will help you try out all the weapons, check out all the characters and practice your shooting skills to have a better gameplay experience.
How to Install NIKKE: Goddess of Victory APK on your Android Device?
No one can resist after knowing about these interesting features of this game. Here are the exact steps to install this fantastic game on your device.
1. First, download the APK file on your smartphone from the link provided above.
2. After that, tap on the file, and select "Install" to start the installation.

3. The installation will take a few seconds to complete.

4. Once completed, you will see the success message. Tap on "Open" to start this game.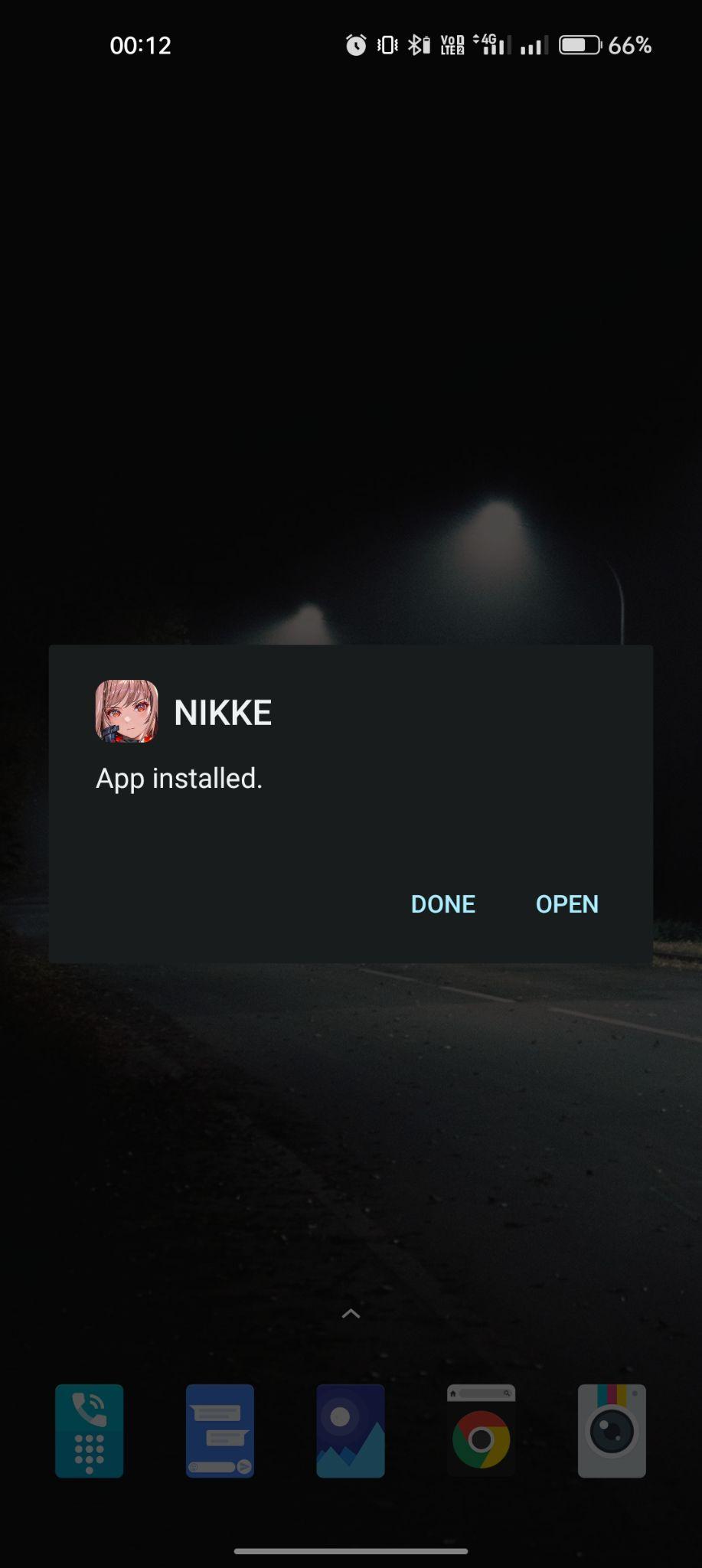 Frequently Asked Questions
#1 – Is Goddess of Victory an adult game?
No. It's not an adult game, but it comes with a lot of graphic content and violence. Hence it's not suitable for kids.
#2 – Can we access skins in the Goddess of Victory game?
Yes. The game comes with the option of choosing from a wide range of unique skins.
#3 – Is this APK file safe to install?
Yes. As we source the APK files from official sources, they are original and completely safe to install.
Final Words
NIKKE: Goddess of Victory APK is one of the finest sci-fi Action shooter games based on anime characters. The gameplay might resemble some other games, but the uniqueness comes from the NIKEES, the anime Maids, as the main characters. With this unique game, you can enter into the destroyed world and defeat the Raptures to reclaim the earth. In this post, we team of Techylist tried our best to share detailed information about this game. If you are facing some issues, make sure to use the comment section below.