Regarding puzzles, we have seen a few games with art-related puzzles, like Jigsaw puzzles and others. But the puzzles and quizzes are an essential part of every industry. We used to play Movie quizzes with our friends and family back in our childhood. The same can be done these days with Android games. Movie Trivia APK is an amazing Movie Quiz Android game with more than a few quizzes about movies and TV shows. If you are a movie buff, then you would love this game.
In Movie Trivia, you get the same interface as in the Popular TV Show "Who Wants to be a Millionaire." You will be shown a few hints per question and also have four options to choose from. It's that simple. Instead of spending your time on action-packed games that drain your energy, you should use your movie knowledge and play Movie Trivia for Android. If you are interested in playing this game, then you are at the right place. In this post, we are going to share detailed information about this fantastic game.
Features of Movie Trivia APK for Android
#1 – Simple Gameplay
In this game, you don't have to worry about complex game architecture. The game is pretty simple, as you will see a question with four options. Just choose the right answer before the time runs out, and you will be safe. Choosing the wrong answer will fail you the level, and you will have to retake the challenge. There is nothing complicated in this, and it will even help you with your movie knowledge as you will know more about the movies.
#2 – Lifelines
Just like you get the option in the Show "Who Want's to be a Millionaire?"The Movie Trivia game comes with lifelines or hints. There are numerous lifelines available for you to have a better gameplay experience. For example, the lifeline to increase the timer is useful when you want some extra time to think about the answer. Also, there is another lifeline to remove two wrong answers. When you are in a dilemma and want some external help, then these features will definitely help you.
#3 – Thousands of Questions
This game will test your claims of being a movie buff. In this game, there are more than 3000 unique questions about movies and TV shows. Some of the questions are textual, and some are unique ones with photos and even some audio. The huge library of questions makes it easier for you to have a better gameplay experience as you will have to keep thinking about the answers, and none of the questions are repeated. The developers are introducing new questions with each update.
#4 – Daily Bonus
In this game, you get to enjoy the daily bonus points for playing it every day. There are numerous things that will make you go crazy about the daily bonus. The daily bonus helps you earn some in-game reward points or lifelines, which you can use in the game. Collecting the daily bonus is beneficial for your gameplay as it will help you complete the quizzes and move ahead to find new questions to answer.
#5 – Free to play
The Movie Trivia is one such game that comes without any annoying paywalls. The paywalls restrict the users from continuing the gameplay without paying any fees. Fortunately, the Movie Trivia game is completely free to play. The users don't have to spend a dime in this game to access all the questions, answers, lifelines, or anything else. So, it's a convenient experience.
You may also like Art Puzzle Apk & Toca Hair Salon 3 Apk.
How to Install Movie Trivial APK on your Android Device?
The questions in this game might be challenging for your level, but the manual installation of this game is not challenging at all. It's a simple process, which you can learn by following the steps mentioned below.
First of all, download the APK file on your device from the link provided above.
Tap on the downloaded file and then select "Install" to start the installation.
The installation process will continue for a few seconds.
Once completed, tap on "Open," and you are ready to roll.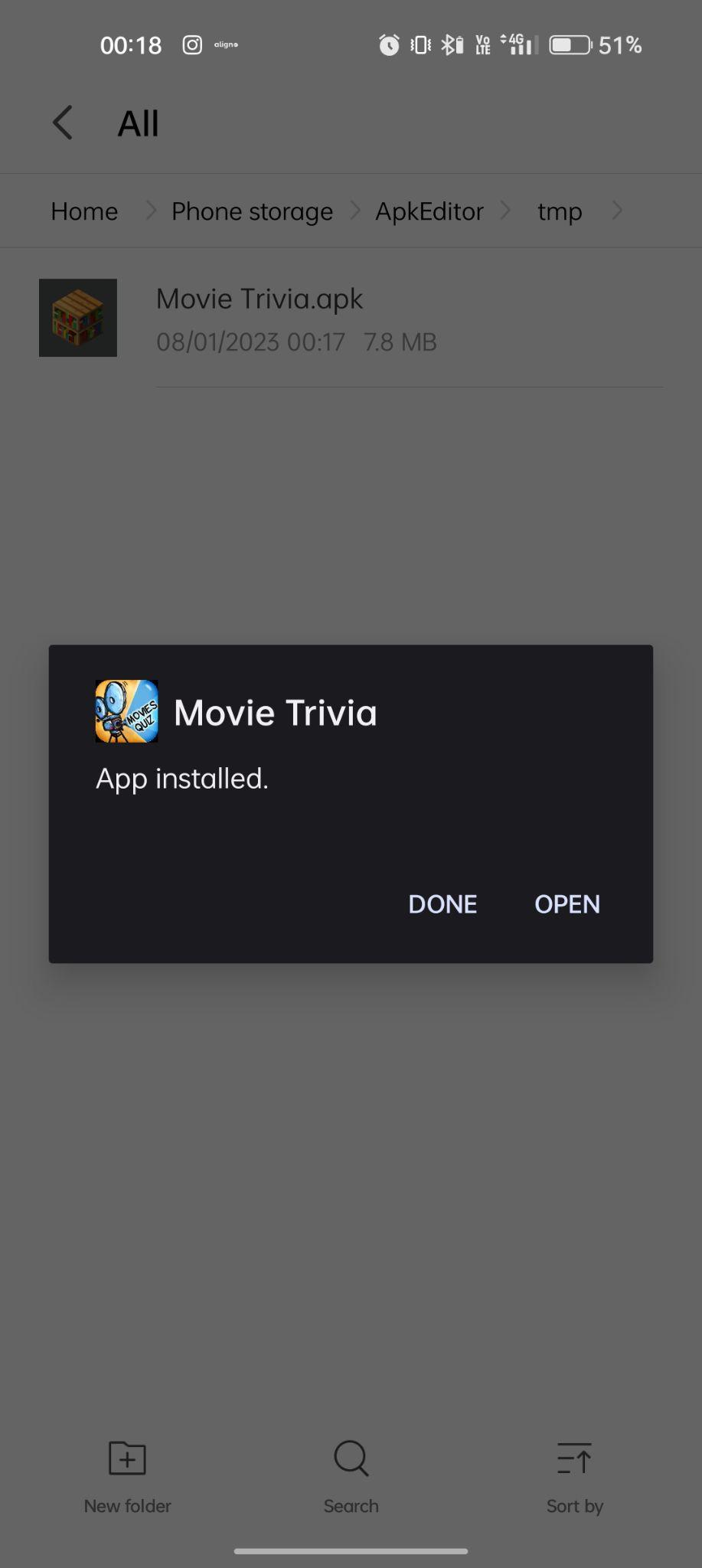 Frequently Asked Questions
#1 – Is Movie Trivia a good game?
If you love movies and consider yourself a movie buff, then this is one of the best games for you.
#2 – How many questions are available in the Movie Trivia game?
There are more than 3,000 unique questions about the movies and TV shows available in this game.
#3 – Is Movie Trivia a safe game to install?
Even though you are installing an APK file, you should not worry about safety and privacy.
Final Words
Movie Trivia APK is one amazing game in a different niche. People often find such games interesting due to the captivating gameplay. With the attention of movie buffs, this game has made a special place in the heart.