Doubloon Bank
APK
v1.6
FM Games
Doubloon Bank tracks your Dabloon data and adds or removes Dabloons from Dabloon Counter. You can also play lottery games to win items.
Download

APK
You might have seen or heard of many trends going viral over social media. But have you heard of "How many Doubloons do you have?" TikTok trend? If yes, you might already be aware of Doubloon Bank App. Dabloon Bank or Dabloon Counter is a fun App that users use to track and records their Doubloons data. The App allows users to add or subtract their Dabloons. Also, they can play lottery games to win items and add many items to their inventory. And there is a lot more you still don't know about the App. Keep reading to learn more!
What is Dabloons Counter Or Doubloon Bank
A recent TikTok trend, 'How many Dabloons do you have?' gave birth to the Doubloon Bank App. Dabloon Counter tracks and records your Doubloons data and offers many features. People loved the trend and started using the Dabloon Bank App to follow the trend.
Dabloons are nothing but just fake virtual currency. But the trend went viral because people started making satirical statements over comparing doubloons with real-life money. People show off their imaginary virtual money (Dabloons) on TikTok. And here are all the features of the App.
You may also like Rotoscope Filter Remover Apk.
Features
Simple User Interface
The most helpful feature of the App is its simple user interface. You can easily use its service and quickly find options without any mess. There are only three options in the HomePage, Add/Remove Dabloons, Inventory, and Lottery. Users can choose the options according to their needs. 
Security
The App is compatible with almost all devices and is highly secure. It offers high-level security and ensures that the user's data is encrypted. Additionally, the App does not ask you to provide any personal information or device permissions.
Inventory
The inventory is given for users to save products. You can save as many products as you want. Just add the Name and description for your objects, and you can add different objects, whatever you have collected for your collection.
Real-Time Response
The Real-time response is one of the most exciting features of the App. Users get responses whenever you add or subtract your doubloon count. The features keep cracking jokes about doubloon count. You may see jokes over your doubloons amount like "LOL UR BROKE," "wanna be friends? It'll cost u all ur doubloons," " WHY DO YOU NEED THIS MUCH," etc.
Lottery
Another exciting feature of the App is the Lottery feature. You can play the lottery game and get exciting extra items to put into your collection. All you have to do is to watch Ads, and you will be rewarded with different lottery items.
Dabloons Calculator
Another feature you can see in the App is the Dabloon Calculator. With this feature, you can add or subtract your Doubloon Amount. This calculator is much similar to a regular calculator, so you will not find it difficult to use.
How to Install Doubloon Bank APK
Step 1: Enable Unknown Sources
First of all, allow your device to install installations from unknown sources.

For that, access the Security Settings from your device's Settings App. After that, find and enable the Unknown Sources option if it is not already enabled.
Step 2: Download and Install the APK
Download the Doubloon Bank APK on your Android device. The downloading will take a few seconds to complete; wait till then.

Once done, open your File Manager App and find the recently downloaded APK file.

Tap on the file, and it will show you options. Tap on the Install option to start installing the App.
Wait for a few seconds and let the installation finish. Open the App after that.
How Does Dabloon Counter Work
Doubloon Bank or Dabloon Bank stores your virtual pirated money, Dabloons. Recently, the Doubloons were trending on TikTok. Everyone was sharing their Dabloons info. This App tracks and records all your Dabloons data. With the help of the Doubloon Bank App, you can add or subtract Dabloons from your Dabloon Counter. Also, you can watch ads and win Doubloons or exciting items. And add items as much as you can to your inventory.
How to Use Dabloons Counter
After installing the App, you have to wait for a few seconds while the App loads. When the App opens, you see the homepage of the App. The App has a simple UI. You see three options: Add/Remove Dabloons, Inventory, and Lottery. Above these options, you will see the amount of Doubloons you have and a joke below that. You can tap on the first option, Add/Remove Dabloons and the Dabloon calculator will open.
You can add or subtract Doubloons and tap on '=' to finalize the amount. The amount will reflect in your Dabloon bank. You can see the figures on the top of the screen. Additionally, you will see the message is changed too. The second option, inventory, lets users add items they collect. They can add as many items as they can. Lastly, the Lottery feature will allow you to watch ads, and you will reward for it. You can also win exciting items to add to your collection.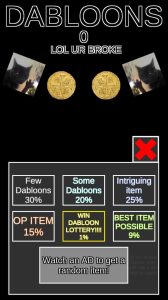 Conclusion
So, that was all about the Dabloon Bank App. The App is also known as Dabloon Counter. It tracks and records all your Doubloon Bank data and encrypts it for security. There are a lot more features that the App is offering to its users. So, if you are social media bird or love to follow trends, you must try this fun App and use it to try the viral TikTok trend. Download the APK from above and install it to try this trendy App today.