Global Offensive Mobile
APK
v0.1.0
Cheese WT
Global Offensive Mobile is a multiplayer FPS game for Android devices.
Download

APK
Fighting and shooting games are loved by people all over the world because they come with a variety of weapons and maps. If you like playing the Counter Strike game, then you are going to love the Global Offensive Mobile version as well. The game is an exact copy of the Global Offensive game and comes with pretty much the same weapons, maps, taglines, etc.
The only difference here is there are some unique things to do in it and also the team divisions like Cover Fire MOD APK. Instead of dividing the teams into regular Terrorist and Counter-Terrorists teams, the game uses Blue and Red. You can read more about this game in this post and also download Global Offensive Mobile APK for your Android devices.
Global Offensive Mobile Game Features
High-Quality Graphics
Even after being a mobile game, this game has got pretty good graphics, to be honest. It is built with Unity Engine, so you can expect it to render visually appealing gameplay. Not only it provides good F.P.S. shooting gameplay, but it is very much optimized to run on almost any type of device.
Different Game Modes
There are different game modes to choose from, and you can play it multiplayer too. Each mode has its own unique features and tasks to complete. Just like the official CS GO game, you get a bomb plantation mode where the Red team plants a bomb on either Site 1 or Site 2 and then the Blue team has to defuse the bomb in a given time.
Play With Your Friends
Use the social media sign-in options like Facebook, Twitter, Google Play, etc., to add your friends to the game. Once done, use the Tactical Shooting, Deathmatch, Team-Tag, or Classic one to enjoy playing the game with your friends. The multiplayer mode can also be used to play this game with other G.O.M. players around the world.
Various Types of Weapons
More than 40 types of weapons are available in this game, and players are free to buy any of them. In the starting, each player gets a certain amount of money to make the purchases, and from the next rounds, money is allocated based on the number of kills, assists, or the round won by the team.
Completely Free & Safe
While many in-game purchases are available in the official CS GO game, this isn't the case with Global Offensive Mobile. The game is completely free, and everything in the game comes pre-unlocked. Also, we have tested this installation file to play the game, and it is working fine. If you want, then you can also import and export the skins.
Global Offensive Mobile APK + OBB Download
The official Global Offensive Mobile release date was back in 2021, and right now, the game is already being played by millions of people out there. If you have understood the basic functionality of it, then use the link mentioned above in this post to download Global Offensive Mobile Android game.
Currently, the game will work only on Android mobile and tablet devices, so if you are searching for an iOS version, then this is not for you. Also, you will have to do Global Offensive Mobile APK + OBB download, as it won't run without the data file. You can also follow the below steps to install this as well as the Sniper 3D MOD APK game on your devices.
First, download Global Offensive Mobile APK file by using the Download button.
Save it on your devices because you will need it later.
Next, open Android Settings -> Security Settings.
Find the Device Administration section.
Enable the option "Unknown Sources" by using the toggle button.
Go back to the Downloads folder and click on the downloaded APK file.
Tap on the Install button and wait for the process to complete.
Once done, open the game using the shortcut created, and enjoy playing it.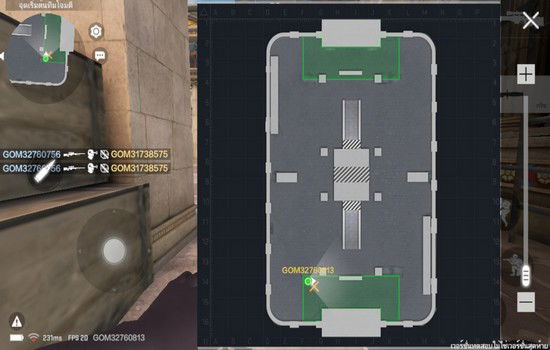 FAQs Related To Global Offensive Mobile:
Is Counter-Strike: Global Offensive On Mobile?
NO, the official Counter-Strike game is not available for mobile devices, but this is actually another game made with almost the same maps, weapons, battle style, and mode of gameplay.
How Much GB Is CSGO Global Offensive?
The official Counter-Strike GO game is more than 50 G.B. in size, but it is highly compressed to make it work on mobile devices. The mobile version is somewhere around 1-2 G.B. in size when installed.
What Are Global Offensive Mobile Requirements?
Although this game is quite small in size, you will need at least 1.3GB of space along with 4 G.B. of RAM to run the game properly. If you want, then you can also optimize the gameplay by going into Settings.
Is Global Offensive Mobile iOS Version Available?
The iOS version of this game is still in development mode, so you can stay connected to our website to know more about its release date.
How To Update GOMO Global Offensive Mobile Game?
Once a newer version is available, visit this page, download Global Offensive Mobile A.P.K. and install it again to enjoy the latest features.
Final Words
We have told you everything about the Global Offensive Mobile game, and we think you must play it to experience its gameplay yourself. There are many shooting games available on the internet, but this game is a clone of the official Counter-Strike game, and that's what makes it so special and better than other similar games.
You can also use the Play Store link to visit its official listing, but the game does not show anything in English. You can keep visiting the Techylist website to get latest version of this game as we keep the post updated with the same. For assistance, you can connect with us via the comments below.